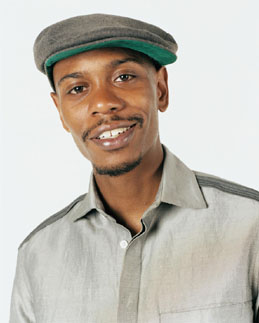 When we first moved here, and I got my job in Yellow Springs, Grant and I looked up Yellow Springs on Wikipedia, where we were finding out random facts about the small little town. The most notable celebrity from Yellow Springs is Dave Chapelle (a comedian, for those of you who aren't familiar with him). Grant and I thought this was pretty cool, since we do like his show. Again, for those who might not know him for his comedy, you might know him from the movie,
You've Got Mail
, playing Tom Hanks' best friend.
Anyways, to make a long story short, a friend from work and I went to Young's Dairy Farm for lunch (it's only about 3 miles from our work), and on our way there, driving through the main street of Yellow Springs, I see none other than Dave Chapelle! I was so excited, the first thing I did is roll down the window and yell out, "Hey Dave!" What a dork! My friend decided to park, and we would walk over and talk to him. By the time we got to him, he was already in his car, about to leave. Through the window of his car, he was kind of "shoo-ing" us off, and I was about to be really disappointed. Then, he rolled down the window, and said, "I'm sorry girls, I'm on the phone, and I'm in a hurry. I can't really talk right now." We then told him that we understood, but we were big fans of his, and we loved his show. He liked that, so he shook our hands, told us to have a good day, then drove off. He would have been justified to shoo us away, because he really was on the phone, and he really did look like he was in a hurry. He got a lot of cool points for talking to us, even if it was for only 10 seconds or so.
This is hands-down the coolest thing that's happened to me in a while! The only problem was, I didn't have my camera. I ALWAYS have my camera with me, in my purse. But when we left to go to lunch, my friend was the one driving, so I just grabbed my wallet, instead of taking my whole purse. I'm still kicking myself for that!!